Your best vacation ever is waiting.
Adventures on the Gorge's location on the very rim of the New River Gorge makes it one of the most beautiful places in the world. But it's not just where we are, it's who we are. Here are the top 9 reasons to choose the best—and the proof behind them.
1. Experience
We are what happens when four of the most venerable, innovative and dedicated West Virginia whitewater rafting outfitters merge to form one amazing adventure resort. Our oldest brand, Mountain River Tours launched its first rafts on the New River in 1972 and we never looked back. Since then, we've been at the forefront of safety, guest experience and excellence. Evolution, baby. Evolution.
2. Commitment to excellence
This is more than just a resort to us. Leading people into the outdoors on the adventure of a lifetime is our passion. We know, a lot of folks say the same thing. But we mean it and have the origin story to back it up. Just watch.
3. Our Staff
If this is the best vacation you ever had, one of our staff helped you book it. If you ate the tastiest bacon in the world, they cooked it. If your cabin is spotless, they scoured it. If you're laughing hysterically, they probably told the joke. They delivered a bag of ice to your campsite. They taught you how to paddle hard forward. They locked your carabiners and tied your knots.
They're the staff of Adventures on the Gorge. They're here for you. They help you find that same sense of awe they've found, that magic of nature, that powerful force that moved them to devote their lives to adventure.
Here's more about our staff.
4. Location
This is an easy one. If you're looking for a New River Gorge vacation, nobody else has ringside seats like this...
5. America's Best Whitewater
The New River... the Gauley River... it's all right here on our neighborhood. Whether you're a seasoned adrenaline junkie or a six-year-old kid (or both!) this is the greatest variety of world-class raftable river sections you'll find in the country.
6. Variety of Adventures
Hey, if whitewater rafting isn't your cup of tea, this is still the place to be. How about zip lining? We have four different aerial adventures. How about rock climbing and rappelling? Mountain biking, lake adventures, paintball, stand-up paddleboarding... and so much more. Just have a look at our Activities.
7. Lodging Options for Everybody
Whether you want to sleep under stars or live large in a 5-star vacation home overlooking the New River Gorge, we have it.
8. Great Restaurants with Amazing Views
The atmosphere is always casual. And the view... oh, that's anything but. From dinner bell to dining table, we will feed you like you've never been fed before. For a gourmet buffet overlooking the New River Gorge, check out our flagship restaurant, Smokey's on the Gorge. For perfect pub food, also with a stellar view, try Chetty's Pub. Smoked all day barbecue? All you can eat. Large pizza delivered to your cabin or campsite? Absolutely. Full service coffee and espresso bar? Why, yes, actually we do have one of those, too. Feast your eyes...
9. Resort Amenities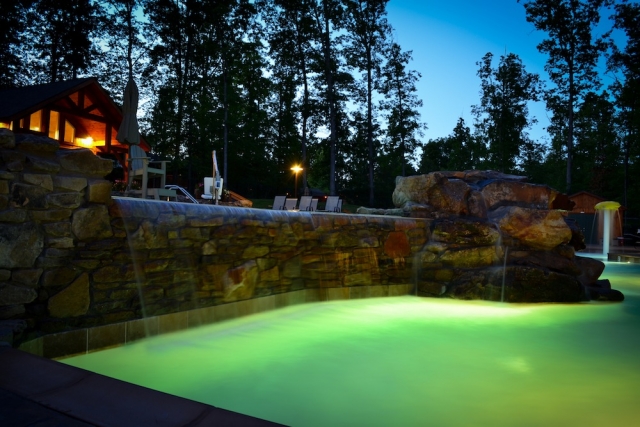 We went the extra mile to make sure that when you come to Adventures on the Gorge, you lack for nothing when it comes to comfort, convenience and stuff to do. From our award winning pool, Canyon Falls, to free wi-fi over most of the resort and trails for hiking and mountain biking, we've got everything you need to relax and fill those down times with fun and relaxation. If you want to unplug from the rest of the world, it's simple here. But if you want to keep one foot grounded in reality, you can do that, too, even if—gasp!—this is a working vacation for you.
Here's more about our surprising Amenities.